Welcome to Hummingbird Farm:
Clematis for the Frozen North!
Happy New Year and Welcome to 2023! It is sure to be a year filled with challenges,
but we're planning on some wondrous adventures as well!

We've got some great changes to share with you this year:
New clematis varieties
More clematis-friendly tools
Reduced shipping charges!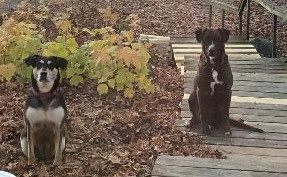 Welcome, Tillie!
In August, 2022, I agreed to foster a dog for
Give A Dog A Home Rescue
here in Maine. To make a long story short, I am officially a Foster Failure and Tillie is now a member of the Hummingbird Farm crew. Like many rescued dogs, she has some fear issues and may not be comfortable greeting customers in 2023. We'll be working with a trainer to overcome her reservations and hope she will eventually be the outgoing dog I know she really is.
Hummingbird Farm is a family owned mail order clematis nursery located in Maine, on the border of
Zones 4 and 5.
We grow and sell only clematis and strive to provide both a great selection of plants and all the information you need to grow them successfully. We sell to all US states, but be aware that we specialize in clematis for the colder areas of the country.
Yes, you can pick up your order. Please email for details!
We also make
handcrafted herbal soap
, which is available through our website.
Hummingbird Farm is a Watchdog 30 Company!
Copyright © 2023, Hummingbird Farm, All Rights Reserved
202 Bean Street, Turner, ME 04282
Phone: (207)224-8220 Email: hummingbird@megalink.net