Clematis shipping information:
everything you need to know.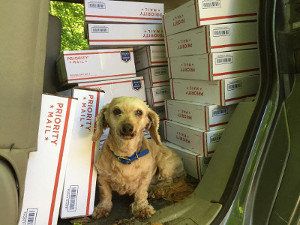 Meet Jilly, the 2021 shipping crew!

We ship to US addresses only.
Apologies to our friends in Canada!
Garden Watchdog Reviews of Hummingbird Farm!

Shipping Schedule Update
The shipping schedule for the week of 9/13 is full.
Orders received after 9/11/2021 will ship the week of 9/20.


---
Pricing: Most Clematis are $21.99 each; a few are slightly higher. Prices are marked with each plant.
Shipping Dates: Although we accept orders beginning in January, we will not begin shipping until late April, due to cold night temperatures in the Frozen North. If you have a preferred shipping date, please put it in the "comments" box on your order form.
Shipping Days: We ship on Tuesday and Wednesday, to make sure your plants can reach you before the weekend. We have found that it takes three days for plants to reach the far corners of the country (like California), so we will ship those orders only on Tuesdays.
Shipping Charges: All plants will be sent United States Flat Rate Priority Mail. We can fit two plants in a box and it costs $13.95 to ship one box. That means it costs $13.95 to ship 1 or 2 plants, $27.90 to ship 3 or 4 and so on.
Tracking: When you place your order, you will receive two emails, one a copy of your order, the second a payment receipt. When your order ships, you will receive an email containing tracking information provided by the US Postal Service.
Please! We ship through the US Mail!
We MUST have your mailing address!
Condition: You will receive a strong, healthy plant with a well developed root system. The tops may have received a "summer haircut" to keep them manageable, depending on the time of year. We do our best to protect the stems; if however, they should be broken in shipping, don't worry. Just keep them well watered and they'll grow right back.
Packaging: Clematis will be shipped out of the pot. Most of our clematis are grown in tree pots that are 4 inches by 14 inches. These innovative pots allow for a longer, stronger root system. For more information - and pictures - on our packaging system, take a look here. Note: Not all clematis will show this much top growth when you get them.
Bare Roots Plants: All states west of the Mississippi River require us to ship all plants bare root. What does that mean? We remove all soil from the root system, wash it in clean water and repack the plants in damp peat moss. Yes, it sounds scary, but we've been doing this for years and have found the plants aren't bothered a bit.
Help is on the Way! We will include complete planting instructions with your order. These same instructions can be found here. For lots more information on growing clematis, check the links in the navigation bar at the top of each page.
Fall Planting: There's information here.
Questions? Send us an email and we'll clarify things for you.