Welcome to Hummingbird Farm:
Clematis for the Frozen North!
We have completed clematis sales for 2022.
Many thanks for a GREAT seaon and we look forward
to seeing you again in 2023!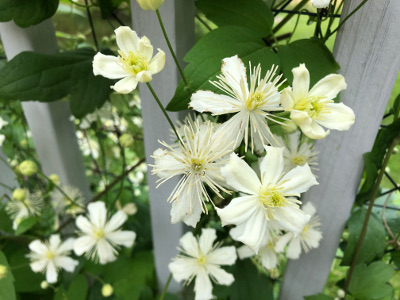 A Ukrainian Clematis for Ukrainian Relief
Greetings Friends!
Did you know that nearly 100 varieties of clematis have been bred in Ukraine? One of our favorites is robust, trouble free
'Summer Snow'
. Hummingbird Farm donated $10 to
World Central Kitchen's
relief efforts on behalf of Ukrainian refugees for every
'Summer Snow'
clematis sold. Our heartfelt thanks to our customers who made this donation possible.
'Summer Snow'
is sold out for 2022.
Hummingbird Farm is a family owned mail order clematis nursery located in Maine, on the border of
Zones 4 and 5.
We grow and sell only clematis and strive to provide both a great selection of plants and all the information you need to grow them successfully. We sell to all US states, but be aware that we specialize in clematis for the colder areas of the country.
Yes, you can pick up your order. Please email for details!
We also make
handcrafted herbal soap
, which is available through our website.
Hummingbird Farm is a Watchdog 30 Company!
Copyright © 2022, Hummingbird Farm, All Rights Reserved
202 Bean Street, Turner, ME 04282
Phone: (207)224-8220 Email: hummingbird@megalink.net