When Two Heads are Better than One:
Growing Clematis with Shrubs.
Willingness to compromise with others' ways of living and
cooperation in common tasks, these make living happy and fruitful.
-Sri Sathya Sai Baba

Not only do clematis love to climb, but that they can be coaxed into climbing almost anywhere. This amazing trait has encouraged us gardeners to plant clematis with anything that will support them, including shrubs. By choosing clematis that bloom at different times than their partners, we can greatly extend the bloom season for that particular patch of earth! In return, the shrub provides support and balance.

Our nearly constant quest for yet more places to plant clematis has led us to experiment with lots of clematis/shrub combinations. In the process, we've learned lots! (That's a polite way of saying, "Wow! Have we ever made a lot of mistakes!") Several years ago, we planted a dozen young clematis on a hedge of mature lilacs in our yard, using all we've learned. We're very pleased with the results and hope you experience will inspire you to try this technique too.


Here's what the area looked like before we started. The lilacs are nearly 20 years old; these are just the 'garden variety' light purple type. The nutrient needs for clematis are similar to that of lilacs (and roses), so they make especially nice companions.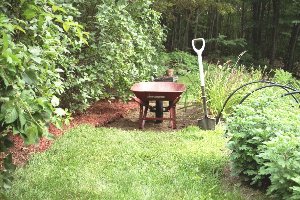 We removed the grass in front of the lilacs. Planting clematis on the north side of shrubs - to convince them to grow toward the sun on the south side - tends to slow their growth a lot. Instead, we planted them on the south side, where they get lots of sun, right from the beginning.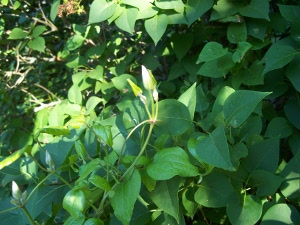 We planted the young plants at the lilacs' drip line, at the outer edge of the lilac foliage. They responded brilliantly, growing quickly during the next year. They needed very little coaxing to cling to and climb the lilac branches.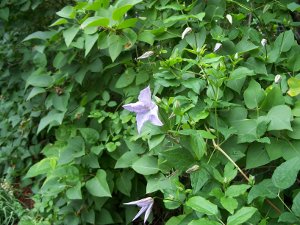 Nine of the twelve clematis gave us at least one bloom the next summer. This is Blue Angel, one of the first to flower. As you can see from all the buds, it did a very credible job during it's first summer!
We must, indeed, all hang together or, most assuredly, we shall all hang separately.
-Benjamin Franklin
These plants are hanging together nicely!