Clematis as cut flowers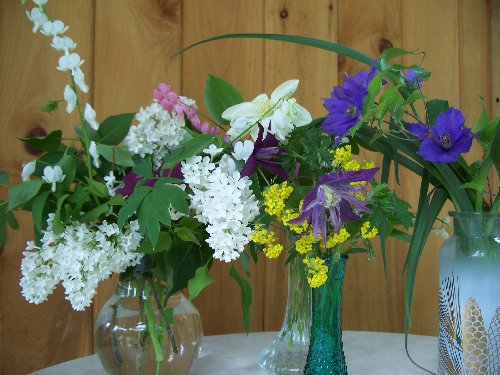 Clematis are known primarily for their beauty as climbing vines. Don't overlook their ability to grace your dining room table as well! Clematis not only make beautiful and unique bouquets for your home but with proper care, they can last 2 weeks or longer.
Harvesting Clematis Flowers
The first important item when creating a clematis bouquet, as with all plants, is choosing your flowers. When harvesting your clematis, select blooms that are not fully mature to ensure the longest vase life. The blooms should be about half open and the stamens should be held together and not yet unfolding. Although fully open blooms can also be cut, they will not last as long. When picking for a special event, blooms cut at different stages gives a beautiful, natural look to your arrangement.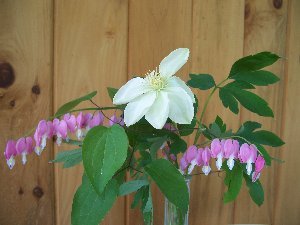 The flowers should be gathered early in the morning or in the evening when air temperatures are at their coolest and when the blooms contain the most water. Using a sharp knife or scissors, cut the ends of the stems diagonally. Remove any leaves that would be covered by water in the container and place the stems into cool water immediately. After cutting, allow the stems to rest in a cool location for up to 24 hours before arranging to allow the stems to absorb plenty of water.
Care After Harvest
Consider adding a hydrating solution to the water. Hydrating solutions helps keep the water cleaner and increase water uptake by the flowers, as well as feeding flower buds as they open fully. They can add a significant amount of time to your bouquet's lifespan. You can make your own following
these directions
or you can buy them already made. Just Google "ready made hydrating solutions flowers". Be forewarned; you'll turn up some results for human skin hydrating products!
If you don't add a hydrating material to the water, it's important to change the water in your vase every day to keep the water clean and free of decaying material.
Here are a few other quick tips:
Keep your cut clematis out of direct sunlight, as it causes the blooms to wither faster.
Clematis don't do well in floral foams like Oasis.
Some clematis have short stems. Try floating them in a container like a rose bowl.
Some Suggested Varieties
While we suspect almost any clematis can be used in an arrangement one way or the other, there are some we can recommend with no reservations.
These are just suggestions - feel free to experiment and let us know what works for you!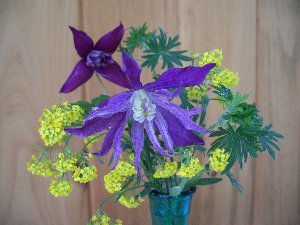 For further information:
A Creative Step-by-Step Guide to Growing Clematis by Nicholas Hall is excellent idea-material for new flower arrangers. There are some beautiful ideas to be had!
The Facebook group Clematis as Cut Flowers is a source of inspiration from gardeners around the world. (There are at least four other Facebook groups about clematis, if you're interested.)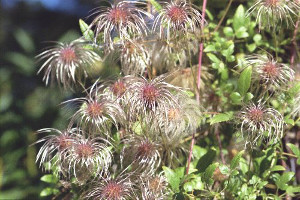 Finally, once you think your blooming season is over, don't despair. The seed heads on many Clematis varieties are still interesting and lovely enough to be included in both cut flower and dry flower arrangements.
We are indebted to Cindy Creps of Meadow Ridge Perennial and Cut Flower Farm for her insight into the world of cut flowers and great advice on this article. In addition to her website, you can find her on Facebook and Instagram.

Our sincere thanks to Laurette Chapman, who created the
arrangements for the photos accompanying this article.