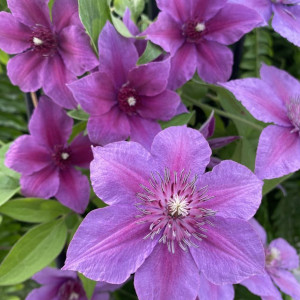 Adam's Courage
$24.99

Closed for the Season
Our 2024 selections will be released in January, 2024.
Sign up for our free email newsletter to see our plans
and plants for 2024 - we will never share your email
address with anyone!



Height: 5 - 6 feet
Blooms: Summer
Pruning: Full Prune
Zone: 4

Adam's Courage, bred at Donahues Clematis in Minnesota, is brand new in 2023!
Named for a famiy member who passed away from cancer, Donahues will donate a
portion of the sale of each plant to cancer research.

Very full flowers can range in color from lavender to fuchsia, both with the season
and the age of the bloom. The folks at Donahues suggest this variety can be treated
as either Full Prune or Don't Bother but here in the Frozen North, we choose to treat
clematis as Full Prune whenever possible. The choice is yours!