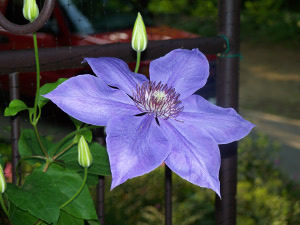 Elsa Spath
$24.99

Closed for the Season
Our 2024 selections will be released in January, 2024.
Sign up for our free email newsletter to see our plans
and plants for 2024 - we will never share your email
address with anyone!



Height: 8 to 10 feet
Blooms: Late Spring
Pruning: Don't Bother
Zone: 4

Elsa's early flowers are large and occassionally semi-double;
later flowers are all single. The flower color fades as the blooms age,
often showing some pink. She'll really compliment your early perennials!

Most clematis need at least 4 hours of sun a day, but Elsa Spath
does well with just a couple of hours of dappled light in our garden.