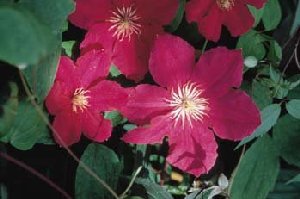 Ernest Markham
$21.99

Closed for the Season
Our 2022 selections will be released in January, 2022.
Sign up for our free email newsletter to see our plans
and plants for 2022- we will never share your email
address with anyone!



Type: late flowered
Height: 10 to 15 feet
Blooms: Summer
Pruning: Full Prune
Zone: 4

Looking for a BIG clematis? One that can scale tall
buildings in a single bound? Look no further!
At 10 to 15 feet tall, Ernest is a bruiser!

Dark pink flowers adorn vigorous vines through the summer.