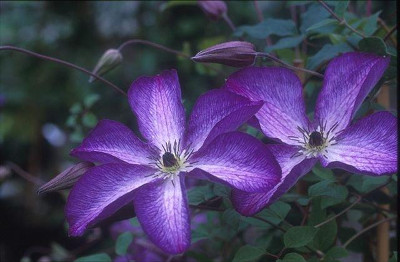 Venosa Violacea
$24.99

Type: viticella
Height: 10 to 12 feet
Blooms: Summer
Pruning: Full Prune
Zone: 4

Venosa Violacea is summer blooming AND bi-colored - a rare combination! Her small flowers are
abundant and the proportion of purple to white can vary from flower to flower on the same plant.

Venosa Violacea is charming with white flowered annuals planted at her feet.
She also makes a great companion for handsome Prince Charles.