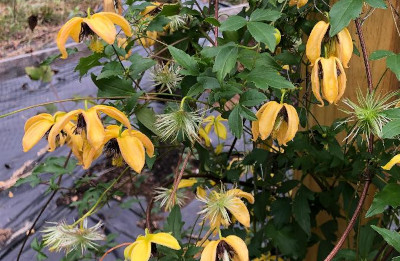 Golden Harvest
24.99

Closed for the Season
Our 2024 selections will be released in January, 2024.
Sign up for our free email newsletter to see our plans
and plants for 2024 - we will never share your email
address with anyone!



Height: 10 to 12 feet
Blooms: Summer
Pruning: Full Prune
Zone: 4

Don't have room for tangutica?
Golden Harvest is a smaller version of the huge species plant.
This is a robust plant with elegant and attractive seed heads
that develop after the flowers go by.

Golden Harvest has flowers that open more fully than it's parent.
This makes it easy to see the contrasing, purple stamens.